Co-organised by BATTERY 2030+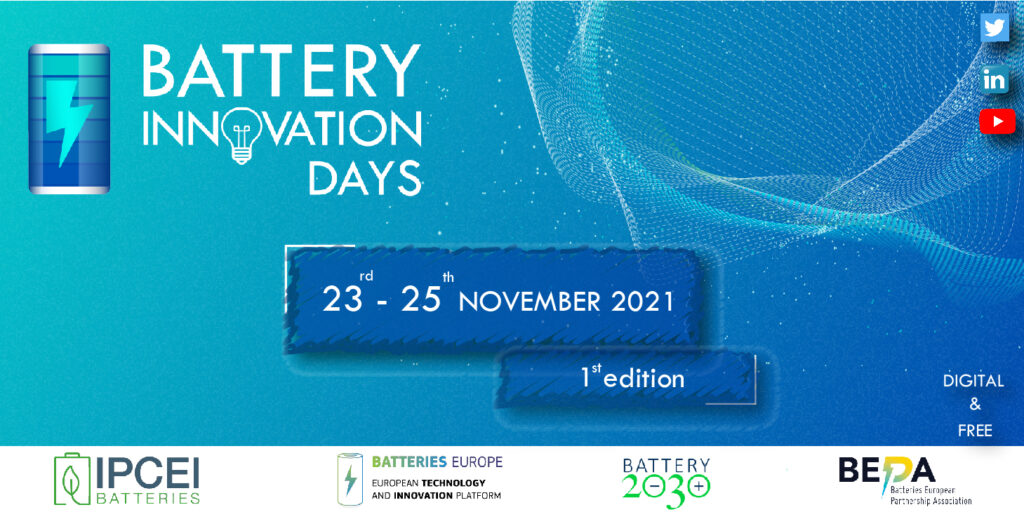 WHEN & WHERE
On 23-24-25 November 2021, the 1st edition of the annual conference on battery Research and Innovation, the Battery Innovation Days, will take place online.
WHAT & WHY
The event sets itself as an opportunity for some of the industry's expert thought leaders to converge and provide hot takes on the latest developments within the European R&I Battery domain, exchange views on key strategic approaches to deploying crucial technologies, and assess future R&I needs for a more competitive and sustainable European battery value-chain.
| | | |
| --- | --- | --- |
| DAY ONE | DAY TWO | DAY THREE |
| Discover the different bodies supporting the development and deployment of a competitive and sustainable battery value chain at European level, and gain a better understanding of the current status of the battery market worldwide, what the long-term priorities are, and why circularity and safety are of the essence | Gain insights on the sustainability status of the battery value chain: discover the future disruptive technologies that will revolutionize the field, what research is being carried out to support a competitive automotive industry and Smart battery functionalisation, and much more. Don't miss the delivery of the Battery Young Research Award! | Deep dive into the Future R&I priorities for 2023-2024, and learn more about new emerging markets, the importance of digitalization, and the necessity to train students and workers who can support the European industry |
WHO
Today's key European Research & Innovation initiatives (Batteries Europe, Battery 2030+ and the Batteries European Partnership Association) in partnership with the Batteries 1st and 2nd IPCEIs, will host a unique online experience designed to bring together numerous key players and experts from the battery field, including representatives from the European Commission.
HOW
Plenty of additional side activities will be available during and after the event!
Battery Innovation Days features interactive exhibitor booths: learn more about our exhibitors by connecting remotely or through their websites with them. Make sure you attend the delivery of the Battery Young Research Award: honouring academic excellence in battery research, the award recognises the commitment of those students supporting scientific advancements in the field. Last but not least, Battery Innovation Days creates a space to connect and spark conversations regarding the topics of the event, and not only, via designed networking opportunities.
WHY ATTEND
Attending the Batteries Innovation Days will provide key opportunities to battery industry, research and policy makers including:
Better understanding of the EU funding and tools for batteries and improved knowledge of the main R&I issues and challenges linked to the battery sector
Networking opportunities with a strong industrial and research network coming from different parts of the battery value-chain.
First-hand information on the short and long-term industrial R&I roadmap and on the impactful research findings generated in Europe