BATTERY 2030+ IS A LARGE SCALE, LONG-TERM EUROPEAN RESEARCH INITIATIVE
For this vision to become a reality, Europe needs to re-emerge as a global leader in the field of batteries by accelerating the development of underlying strategic technologies and provide European industry with disruptive technologies and a competitive edge, with a cell manufacturing industry based on clean energy and a circular economy. This is a part of what will enable Europe to reach the goals of a climate-neutral society as envisaged in the European Green Deal.
Battery 2030+ brings together the most important stakeholders in the field of battery research and development to work on concrete actions that support the implementation of the European Green Deal, the UN Sustainable Development Goals, as well as the European Action plan on Batteries and the European SET-plan.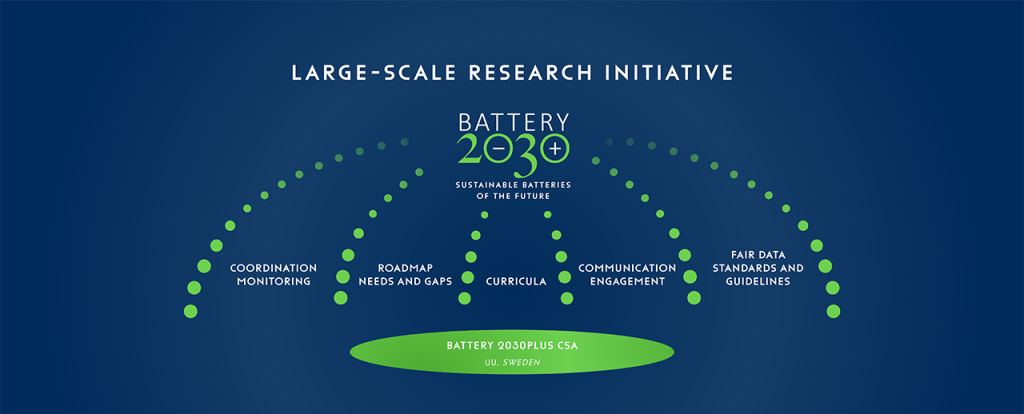 The Battery 2030+ roadmap presents the actions needed to deliver on the overall objectives and address the key challenges in inventing the sustainable, safe, high-performance batteries of the future. It contains a generic toolbox to transform the way we develop and design batteries in Europe. The first phase of Battery 2030+ research projects ran during 2020-2023, and a second phase will continue with new projects successively starting from fall 2023, ending during 2026-2027.
The Battery 2030+ aims are to:
invent ultra-high-performance batteries that are safe, affordable, and sustainable, with a long lifetime.
develop new battery chemistries and battery concepts.
provide breakthrough technologies to the European battery industry throughout the value chain, including manufacturing and recycling.
accelerate battery development through realization of new tools in the area of digitalization, machine learning and AI.
enable long-term European leadership in transport and stationary storage, as well as robotics, aerospace, medical devices, Internet of things, etc.