Acronym: PHOENIX
Title: Building more reliable and performant batteries by embedding sensors and self-healing functionalities to detect degradation and repair damage via advanced Battery Management System
PHOENIX aims to develop battery cells with integrated sensors (mechanical, enhanced impedance spectroscopy, temperature, gas, reference electrode) and self-healing functionalities (magnetically activated polymers, thermally activated polymers, metallic organic frameworks coated separator, core-shell NMC composites). Tailor made triggering devices to activate self-healing mechanisms will be developed, prototyped and demonstrated in Generation 3b and 4a Li-Ion batteries. A Battery Management System (BMS), capable of detecting defective operations and of triggering self-healing functionalities will be developed with in-line communication. The degradation detection and quality, reliability and life will be tested through dedicated profiles (fast charging, extreme temperatures, calendar life). The novel batteries' manufacturing will be studied from a recycling and mass production point of view.
PHOENIX is coordinated by the Battery Innovation Centre at MOBI-Vrije Universiteit Brussel (VUB) and is a partnership of 4 research organisations, 1 university, 4 small-to-medium enterprises experts in materials, sensors, modelling, BMS, recycling and battery manufacturing.
The project started on 1st May 2023 and will run for 4 years, having been awarded a total budget of €4.998.505,75.
Project in a nutshell:
PHOENIX is an innovative project supporting the development of smart, technologically advanced and sustainable batteries.
The next generation of batteries will prioritise safety, durability and environmental sustainability. Therefore, the PHOENIX project seeks to explore a range of smart functionalities in terms of self-healing, sensing, and triggering.
Thanks to the integration of an advanced Battery Management System (BMS) to these functionalities, detecting any degradation in performance and evaluate the battery's overall quality will be possible: batteries lifetime will improve up to 100% (from 250 to 500 charging cycles).
Concept and challenges:
The demand for batteries in electric mobility, grid energy storage, and consumer electronics is projected to increase tenfold in the next decade. However, in order to increase the acceptance level of batteries, battery costs over lifetime still have to be reduced and battery performance, reliability and safety have to be improved.
The PHOENIX project aims to explore various possibilities for integrating self-healing, sensing, and triggering functionalities into batteries, to develop cells capable of living longer, detecting and preventing any kind of degradation, being more sustainable and less expensive.
These functionalities, along with the control and management of the Battery Management System, will be prototyped and demonstrated in Generation 3b and 4a Li-ion batteries. These battery technologies have the potential for high voltage and fast charging, making them suitable for electric mobility and stationary applications.
The Battery Management System will enhance safety and enable longer battery lifetimes, aiming for a +100% increase in cycle life (from 250 to 500 charging cycles) through in-line communication. The project will demonstrate the self-healing behaviour of the batteries using sensors in single-layer and multi-layer cells, with the prototyping of 200 cells.
Additionally, the project will address manufacturing concerns such as cost and mass production, recycling feasibility, and sustainability assessment. The aim is to reduce specific battery costs by 10% and enable the recycling of self-healing materials without significant changes to the current recycling processes.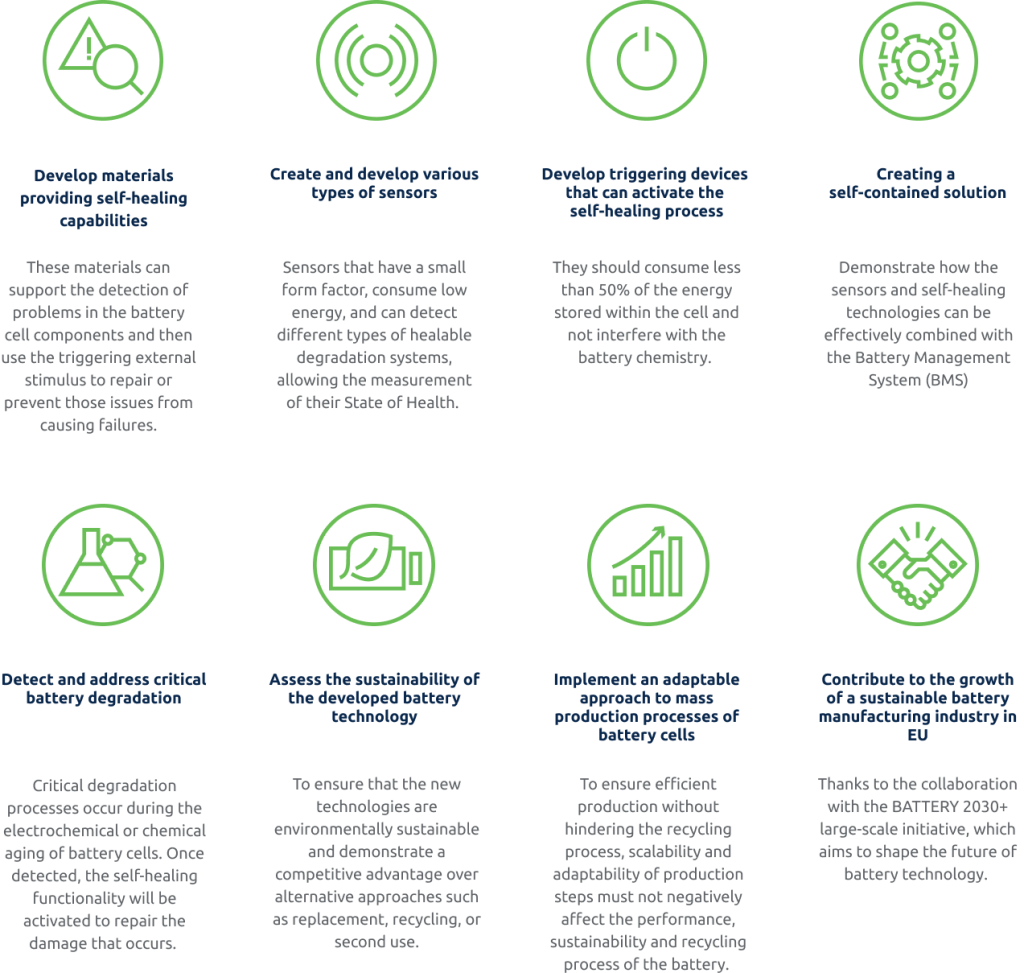 Project Coordinator:
Joris de Hoog Vrije Universiteit Brussel (VUB)
jdehoog@vub.be